Forget Thanksgiving...well don't forget it. Let's just postpone our Turkey day thoughts for a second. Put down that turkey leg now. Ok, so it's Jamie Campbell Bower's 24th birthday. That's right. November 22nd is our Jace's big bday. We celebrate today on Twitter with #HappyBirthdayJamie to @jamiebower.
Some of you might wonder what it is about Jamie we love. Well, we thought we'd give you our top 5.
5. Playing a bad guy never looked so cool. Jamie plays Caius in the Twilight Saga. I won't spoil for those that haven't seen Breaking Dawn 2. I will say with his red eyes and creepy smile, this Volturi is one we love to hate. Don't tell Alice and Jasper, but I rooted for Caius the whole time!
4. He's played the "real" Shakespeare.
Have you SEEN the film Anonymous? Jamie shares a softer side in this critically acclaimed film about the man behind the quill of William Shakespeare. For a period piece, it's nailbiting and a must see.
3. His tweets are the best! If you haven't followed @jamiebower on Twitter, now's the time. He doesn't talk about his work so much. It's basically random, funny musings. The one drawback of TMI filming was that he was Twitter silent for pretty much the duration of set days. My highlight was when he favorited a tweet of mine. I was being a bit snarky, which he obviously found funny! He seems like a laid back, cool guy so I enjoy his wit.

2. King Arthur ... dashing, daring and delicious. For those that were not sure that Jamie could play Jace, my first suggestion was always "Watch Camelot...trust me". He convinced me when I watched it while it was on. It still holds true for those stragglers who still aren't with the program. Jamie as King Arthur is BRILLIANT. It was a shame the show only lasted one season. I wanted so much more of this great show. 
1. Jamie is Jace. I know I can't go into details about the set. I can't say what we saw or what we did. What I can say is that, in general from what I know of his many interviews I've seen and from his presence on Twitter, Jamie was the perfect choice for Jace. Back when I watched Jamie in Sweeney Todd alongside Johnny Depp, I was so taken by this young guy on screen. Over time, he's grown even more as an actor. In seeing the first trailer for TMI, I have been thrilled with the vision that director Harald Zwart has for Jace. Everything about those 1:46 seconds screamed authenticity for Cassandra Clare's beloved series and her hero, Jace Wayland. Fans are waiting on baited breath to see more of Jamie in action.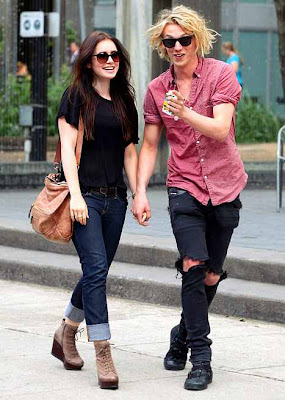 So basically, we love ya, Jamie! We are excited that you are a part of our TMI family. We look forward to seeing you in City of Bones and for the remainder of the series as well. We are thankful you are our Jace! In addition, here is a happy birthday video from the girls at @CDSvzla, @TMI_colombia and brilliantly edited by @shadowhunterar from all your fans!

HAPPY BIRTHDAY, JAMIE!