Some people have been asking a lot of questions about Clockwork Princess. About what special features it will have, what languages the Collector's Edition comes in and etc. Cassie has taken to her Tumblr to explain. Check them out below:
"Clockwork Princess special edition
Cassie, Are there going to be special editions of Clockwork Princess, like with Clockwork Prince? — peachandblue2
Hey Cassie I've got a question for you. You wrote on twitter that first English editions of clockwork princess will have a family tree. That means UK edition as well right? I live in Poland so it's cheapet for me to order UK one than US but also i want family tree. So i must know which one to order :) — thedaughterofvalentine
——-
All hardback or paperback first editions in English of Clockwork Princess will have, printed either in the back or on the inside of the cover, a family tree that links the generations of The Infernal Devices with the generations of The Mortal Instruments and Dark Artifices.
What's a first edition?
Publishers print books in batches called print runs.
Every book printed in the first batch of books printed is a first edition
"A first edition book is a copy that was printed in the first print run, when the book was originally published. If the books sell out, the publisher will authorize the printing of a new batch, called the second edition. When that stock is depleted, the next print run is called the third edition, and so on."
How can I tell if it's a first edition?
It will say "COLLECTOR'S FIRST EDITION" on the front. The below is the cover of the North American first edition. See the words next to the big thumbs-up? (Which I added and is not part of the cover) - that is how you know it's a first edition.
The next image is the Australian, UK/Ireland, New Zealand, South Africa first edition. Again, you see where the finger is pointing? It says COLLECTOR'S EDITION. That is how you know it will have the family tree.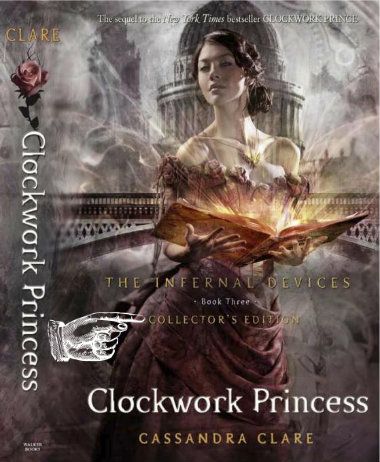 How do I get a first edition?
A first edition is, again, every book that is one of the first batch of books printed by a publisher. There are a limited amount. When they sell out, then the rest of the books printed will be without the family tree. The best way to make sure you get a first edition is to pre order. You can do this online.
Like, if you go to the Amazon page for Clockwork Princess, you can see that the image says Collectors Edition
. That means if you order from Amazon right now, you will get that first edition.
The same goes for Barnes and Noble.
If you do not want to order online, you can go into any bookstore now and tell them that you wish to pre-order a first edition. They will call you when it comes in. Bookstores can do that. They put in their own order with the publisher, and the publisher makes sure they get those first editions. You can even do this at Walmart. You can do this in any country, in any bookstore where English language books are sold.
Will the family tree be in ebooks for Nook or Kindle?
It will not. (This is not my decision. It is my publisher's. I do understand that the family tree is a very nicely designed piece of work and they want to show it at its best, on paper. Also, because of the nature of ebooks, there is no such thing as an ebook first edition.)
Will the family tree be in books in other languages?
I don't know. Those books need to be translated. The family tree has been made available to all my foreign publishers and it is their choice as to whether they wish to include it in their books. If you want to know if they will have it in their editions, you should contact a bookstore in your country and ask.
Whew!"
Clockwork Princess will be in stores on March 19th at a bookstore near you.