Our favorite author, Cassandra Clare, has decided to reveal to us the whole jacket of
CLOCKWORK PRINCESS
! Check it out down below:
"Clockwork Princess cover
I'm the type of book worm that loves to see the whole book-the front, the back, the spine-and OH MY GOD THE SPINE IS SO SO PRETTY - Why a rose though? — thisisntawishfactory
I don't know! I guess they thought the rose was pretty. I like it.
Here's the whole UK cover — even with a little bit of jacket copy!"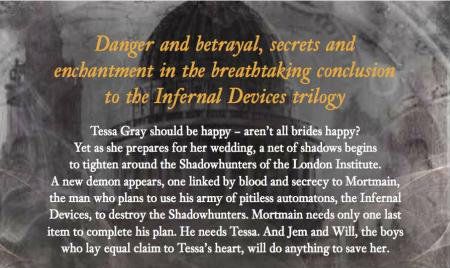 How beautiful do you think it is? Let us know what you think about it in the comments.
You can hold
CLOCKWORK PRINCESS
in your hands on March 19th.