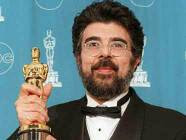 Academy Award winning composer Gabriel Yared will be scoring the music for
The Mortal Instruments: City of Bones
, according to internationally bestselling author Cassandra Clare.
According to IMDb, Gabriel Yared stopped his law studies at the age of 20 to work as a professional music composer. He studied with Henri Dutilleux and Maurice Ohana. He worked as a composer, orchestrator or producer for such singers as Françoise Hardy, Charles Aznavour, Gilbert Bécaud and Mireille Mathieu. He made his film debut in 1980 with the score for Jean-Luc Godard's "Every Man for Himself".
He has since scored a huge list of movies for such major directors as Jean-Jacques Beineix, Robert Altman and Jean-Jacques Annaud. He won an Academy Award for Anthony Minghella's "The English Patient" score and has been nominated for two others ("Cold Mountain" and "The Talented Mr. Ripley"). He also composes ballets for Carolyn Carlson and Roland Petit. He is the founder and director of the Pléiade Academy, which welcomes and supports talented young composers in the production and promotion of their works.
Published with Blogger-droid v2.0.6